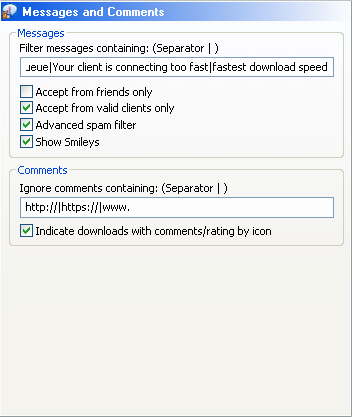 Messages
Unwanted messages can be blocked by entering them in this filed. If the text matches no messages will be displayed. Multiple messages may be chained using | as separator.
o Accept from friends only
All messages except from users added to the friends list will be blocked.
o Accept from valid clients only
This setting makes sure, that messages are only accepted, if the sender client is valid and does not appear to be a fake. This setting should be turned on.
o Advanced Spam Filter
The Advanced Spam Filter will check every incoming message. If any of the following filter criteria is met, the sender of the message will be ignored. A spam ignore will last for the current session only.
| | |
| --- | --- |
| > | A webadress or URL is sent on first contact |
| > | The user already sent 5 messages without receiving a reply |
Users on the friends list will never be marked as spammer.
o Show Smileys
If checked, eMule will replace text smileys like :-) with graphic smileys like

.
Comment
This functions works like the message block above but is applied to file comments
o Indicate downloads with comments/ratings by icon
For all files which have a known comment or rating, an icon will be shown in front of the filename which indicates the result of the rating (from red for bad to green for excellent).
Note: File comments should help other users to judge the quality of a download. They are not intend to talk about the weather or for advertisements of any sort. Please leave proper comments.